TriCaster Mini Advanced HD-4
Manufacturer: Newtek
SKU: FG-002884-R001
Regular price
$5,995.00 USD
Regular price
$5,495.00 USD
Sale price
$5,995.00 USD
Unit price
per
Sale
Sold out
The NewTek TriCaster Mini Advanced HD-4 is a compact, all-in-one multimedia solution that allows you to simultaneously broadcast, stream, and record live productions from virtually anywhere. The 16-channel switcher makes it easy to switch between four HDMI cameras, mix audio, add graphics and titles, and add advanced effects like virtual sets and animated transitions. Using the same intuitive and fully featured control software as the rest of the TriCaster professional line, the TriCaster Mini is suited for both new users and seasoned pros.

In addition to the four HDMI inputs, you can choose from two live sources from supported devices on the network, including computers, USB webcams, or even wireless Apple AirPlay devices. Two HDMI outputs are provided for sending the Program output with audio to external devices, with video-only HDMI and DVI outputs available for monitoring. In order to view the user interface and multi-view output, HDMI and DVI outputs are provided.

The TriCaster Mini features an internal 750GB storage drive that provides up to 15 hours of HD video recording. You can also attach external USB 3.0 drives to record up to four simultaneous video input or output signals at full resolution. The TriCaster Mini supports HD live streaming with presets up to 720p available for RTMP and browser-based streaming applications. Additionally, you can save a web-ready streaming file for later upload to popular social media or video-on-demand sites.

A cable retention bracket comes included, which doubles as a handle for the TriCaster Mini. Also included are a keyboard and mouse, which provide cordless operation via wireless Bluetooth technology. You can also add the optional TriCaster Mini Control Panel for traditional tactile control with T-bar and illuminated buttons.

All-in-One Multimedia Studio
The TriCaster Mini makes it possible for anyone to start creating multimedia content, without the need for additional software or equipment. With just one system, you can switch between four cameras, mix audio, add graphics and titles, and add advanced effects like virtual sets and animated transitions. You can also network with computers and wireless devices for presentations and screen sharing, stream to the web, publish to social media sites, and record content for later viewing.

Compact, Travel-Ready Size
The compact size of the TriCaster Mini allows you to produce and stream content from virtually anywhere. It's small enough to fit into a backpack for easy travel, and doesn't require a studio full of gear to use.
16-Channel, 4-Camera Production
Connect and switch between up to 4 HDMI cameras and produce content in resolutions up to 1080p. Two overlay channels allows for mixing sources and creating multi-layer compositions.

Network Sources
Choose two live sources from any number of supported devices on the same network. Supported sources include: networked computers via included NewTek iVGA client application; wireless Apple AirPlay devices; TriCaster 8000, 860, 460, 410 or Mini; 3Play 4800, 440 or 425; USB video sources; video over IP sources; RTMP or RTSP streams; HTTP streaming video sources; and a variety of third-party partner solutions.

Robotic Camera Support
Access up to 4 live Pan-Tilt-Zoom (PTZ) robotic cameras via standard serial and network protocols, with native preset system and user interface control over camera orientation, zoom, focus and iris.

Multi-Channel Audio Mixer
The multi-channel audio mixer within the TriCaster software lets you manage camera audio, including internal and external audio sources, outputs, recorded audio, stream audio, and headphone output. It supports Master and Aux output mixes.
Pan control, solo auditioning, seven-band equalizer and stereo compressor/limiter per input and output, with per-input audio delay control
Multi-bus routing of audio source channels to any combination of outputs, with independent level control over channels 1/2 and 3/4 for quad sources
Audio Follow Video system enabling audio to follow multiple video sources, with support for unlimited audio grouping combinations
Digital audio inputs equipped with audio time-base synchronizes
Supports companion iPad audio mixing app and Avid Artist Mix audio control surface


Recording
Recorded media can be stored to the 750GB internal drive, accommodating approximately up to 15 hours of HD video recording. Media can also be recorded to external storage drives connected via USB 3.0. With using external drives, you can take advantage of the TriCaster Mini's integrated ISO recording feature capabilities to record up to four simultaneous video input or output signals at full resolution in QuickTime, MPEG-2, AVI, or H.264 file formats.

Built-in Wi-Fi
Built-in Wi-Fi enables wireless connection to local network for streaming, publishing, and networking.

Streaming
TriCaster Mini supports HD live streaming with presets up to 720p, supporting the most common streaming profiles and custom multi-bitrate streaming profiles (including RTMP streaming and browser-based streaming applications), and auto-save of Web-ready stream file for video on demand (VOD) upload.

Publishing
Upload video and images directly to social media sites such as YouTube, Facebook, and Twitter, export content to FTP servers, and copy files to attached or networked storage locations.

Monitoring
An external monitor is required for viewing the user interface and for multi-view display. The TriCaster Mini has HDMI and DVI outputs for hooking up an external display.

Multimedia
Five digital media players are provided for video, graphics, and sounds. You can also access up to 15 additional graphic sources instantly during live production with still and title buffers.

Mix Effects
The TriCaster Mini features four M/E buses, each with independent switcher and key layer, for advanced video mixing, compositing, effects, and virtual sets.
Mix mode: Enables secondary switcher operation for output, submix or recording, with Program/Preview workflow and transitions

Effects mode: Enables multi-layer compositing, effects generation and virtual set application, with per-source 3D DVE, scaling, cropping and keying

Transistions and Effects
The built-in effects engine lets you apply transitions, animation stores, and real-time 3D video warping. An Animation Store Creator is included for creating custom effects.

Virtual Sets
Over thirty HD live virtual sets are provided with multiple camera angles, shot presets, realistic virtual camera movements, and real-time reflections, plus support for custom holographic virtual sets.
Note: In order to modify the included virtual sets, the separately available Virtual Set Editor v2.5 software license is required.

Macros
Use macros to record your favorite go-to-settings, commands, or operation sequences, and then create custom one-step shortcuts to simplify or automate control. Support for standard MIDI protocol enables third party MIDI device control of TriCaster operations via macros.

Grab Stills
Grab full resolution, de-fielded still images from Program output, and freely choose to add grabs to Publish queue, Media Player presets, and Buffer destinations.
Share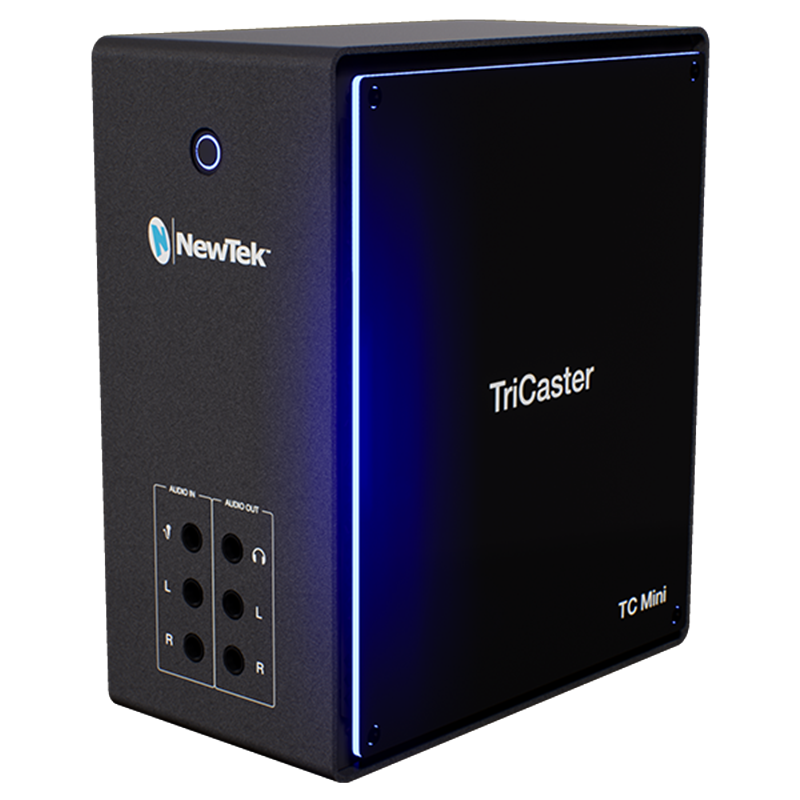 Free Shipping & Expediting

Ask about our direct ship options to expedite your order. All orders include free standard shipping to most destinations on the continental United States.