Avid NEXIS | PRO 40TB Engine, includes 1 year Standard support with Extended Hardware coverage
Manufacturer: AVID
SKU: 9935-71997-02
Regular price
$15,835.05 USD
Regular price
$15,995.00 USD
Sale price
$15,835.05 USD
Unit price
per
Sale
Sold out
Avid NEXIS | PRO 40TB Engine, includes 1 year Standard support with Extended Hardware coverage
10G SFP+ optical or twinax cable required
PRO 40TB delivers 40TB capacity and the ability to have single or dual disk media protection and up to 600MB/sec of throughput for collaborative editing of video and audio workflows.

Scale up to 4 engines
Up to 160TB capacity
Up to 2.4GB/sec performance
Can be added to existing Avid NEXIS | PRO systems
Get the performance and reliability of Avid NEXIS in a more affordable system designed for small video or audio production teams. Avid NEXIS | PRO offers real-time collaboration to accelerate your media workflow. Find and share media fast. Adapt workspace capacity, performance, and protection as requirements change. And get the same secure and reliable workflows trusted by an industry.

Product Highlights
Enable creative collaboration
With the increasing demand for more content in shorter timeframes, Avid NEXIS | PRO enables you to connect your team, share media and sequences, and work together on the same projects in real time. Without fear of accidentally overwriting someone else's work. Gain more time to spend focusing on telling a great story—and less time searching for and shuttling media. And put the "flow" back in your workflow with the ability to connect up to 24 contributors simultaneously.

Experience exceptional performance
Production schedules are unpredictable. Can one system really change the possibilities of what you can achieve? Absolutely. With its advanced architecture, intelligent file system, high bandwidth, and automation abilities, Avid NEXIS | PRO delivers unrivaled media performance with up to 2.4 GB/s of bandwidth speed, enabling projects to move in parallel, so you can turn around more projects faster. No matter what editing and media asset management tools you use.

Get the reliability you need
When your reputation and business are on the line, Avid NEXIS | PRO protects and secures your media like no other. The system is built on the same technology trusted by thousands of top broadcasters and post-production studios. From its bulletproof security privileges, to fail-safe disk protection with automatic drive rebuild, you can rest assured that your content is safe. And should you need it, tech experts are available around the clock to help.

New Features
Increase your storage capacity
Why add more storage islands to your sea of media? With Avid NEXIS | PRO, you can expand your raw storage capacity from 40 TB up to now 160 TB. Connect up to four Avid NEXIS | PRO engines together for maximum capacity and bandwidth. Your valuable assets will be protected, available, and within easy reach through a centralized media hub.

Boost your bandwidth
Need more power for 4K/UHD, color grading, and finishing workflows? With new high-performance storage groups that deliver up to an astounding 600 MB/s of bandwidth per Media Pack (up from 400 MB/s), you gain up to a 50% increase in performance so you can get more done—faster. Need more power? Connect up to four Avid NEXIS | PRO engines together and ramp up performance with up to 2.4 GB/s of bandwidth.

Ramp up production
With the increase in bandwidth speed, you can create and deliver higher volumes of high-res content more easily. Play back over 27 streams of DNxHR-encoded 4K media at high quality when running four Avid NEXIS | PRO engines to support even the most bandwidth-intensive workflows. Or enable 130 streams of DNxHR-LB-encoded 4K media.

Connect Pro Tools teams together
With new support for Pro Tools, audio teams can now connect into the industry's most efficient media production environment, share projects, and collaborate, eliminating the time wasted moving files between systems while speeding up turnaround time. It's ideal for using across a number of audio-only and audio/video workflows, specifically for small to mid-sized audio post production.

Accelerate Workflows
Bring value to your business
Can you find the footage you need? Do you constantly plug and unplug drives to share files across multiple workstations? How can you turn around projects faster and get more work? Powered by its unique Avid NEXIS | FS file system, Avid NEXIS | PRO makes it easy to manage and share media and collaborate in real time, so you can accelerate production. Deliver your best work—on time and on budget. It's the smartest way to streamline your entire workflow.

Create and edit with power
Don't let sluggish systems and bandwidth bottlenecks slow you down. Avid NEXIS | PRO delivers real-time SD, HD, 2K, and 4K media performance and streaming in even the most editing-intensive environments. And when you need more throughput to support more demanding high-res projects and collaboration, simply connect up to four Avid NEXIS | PRO engines together to boost your bandwidth—now up to 2.4 GB/s.

Collaborate in real time
Put an end to the storage sharing and media-copying shuffle of using individual USB, FireWire, eSATA, and Thunderbolt drives. With Avid NEXIS | PRO, up to 24 editors, assistants, loggers, and other contributors can access media at the same time. It's the only shared storage technology deployed in over 3,000 production environments that provides a highly protected, real-time collaborative editorial workflow.

Adapt quickly to unpredictable changes
When projects or business needs change, Avid NEXIS | PRO can be flexibly reconfigured on the fly without impacting production. Intuitive software tools enable you to reallocate bandwidth, add or remove storage capacity, dynamically resize workspaces, and increase or decrease media protection quickly—all without any downtime or impact to teams.

Work with the tools you want
No need to ditch your favorite tools to collaborate. Avid NEXIS | PRO works with a variety of Avid and third-party editing tools, including Media Composer, Pro Tools, Adobe Premiere, Grass Valley EDIUS, and Apple Final Cut Pro. And it's easy to integrate with many media asset management systems too, including Interplay | Production and Pronology.


Store and protect your media

Get real reliable protection
Your content is your goldmine. That's why Avid NEXIS | PRO is built to safeguard your media in the event that one or even two drives go down, enabling you to retain real-time performance, with automatic drive rebuild. And because the file system is media-aware, it rebuilds only your actual stored assets—not the entire capacity of the disk, bit-for-bit—so repair times are radically faster.
Get expert help when you need it
When things don't go as expected, our Customer Care team can bring you peace of mind. Get troubleshooting help, advice, and more with access to professional Avid Support, available through an annual subscription or on a per-incident basis. Whether you have a technical issue or want support on-call for the duration of a major project, we're here to help.
Avid sales are restricted to the United States only. We will not be able to complete your transaction if you are not in the US. We apologize for any inconvenience this may cause.
10G SFP+ optical or twinax cable required
Share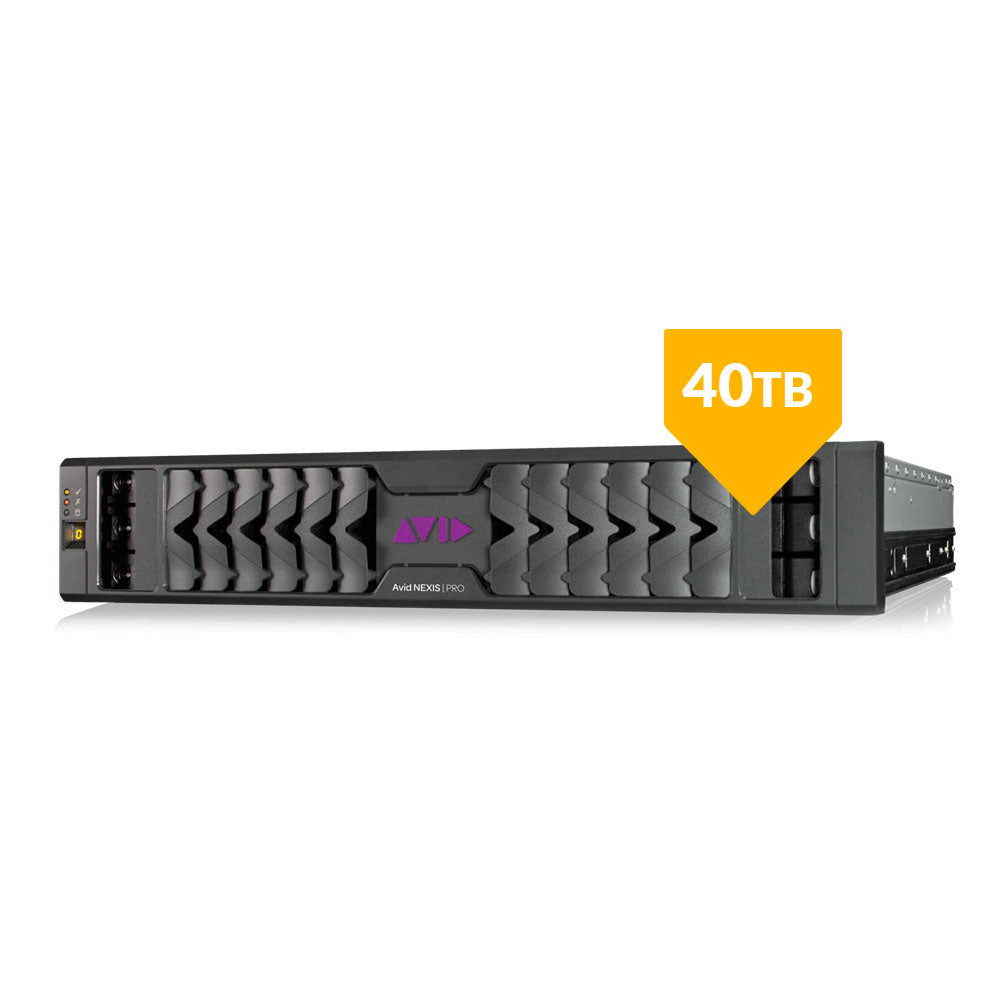 Free Shipping & Expediting

Ask about our direct ship options to expedite your order. All orders include free standard shipping to most destinations on the continental United States.