Lectrosonics portable dual channel digital transmitter
Manufacturer: Lectrosonics
SKU: DCHT
Regular price
$1,924.00 USD
Regular price
Sale price
$1,924.00 USD
Unit price
per
Sale
Sold out
DCHT

 

- Digital Camera Hop Transmitter

Portable dual channel digital transmitter, 2xaa
The DCHT portable digital stereo transmitter is designed for use in film and TV production as both a wireless audio link from a bag or cart system to cameras and as a portable IFB transmitter paired with the Duet digital wireless M2R receiver packs. The DCHT accepts two channels of mic or line level analog signals or an AES digital signal from a mixer and transmits to the receiver or receivers in a purely digital format. The digital architecture of the new DCHT is a third-generation design with specially developed, high-efficiency circuitry for extended operating time on two AA batteries. The DCHT can tune across the available UHF TV band from 470.00 to 607.950 MHz (470-614 MHz for export versions) in 100 kHz or 25 kHz steps, offering more than 6000 frequencies. The RF output can be set to 10, 25 or 50 mW, thus providing flexibility in terms of operating range for the intended application. The digital architecture allows for AES256-CTR encryption for applications where content security is a concern.
Tunes across entire UHF frequency range 256-bit encryption - AES 256-CTR Selectable RF power at 10, 25 and 50 mW AES and analog mic and line level inputs USB port for firmware updates Wide range input gain adjustment Compatible with Duet M2R receiver DSP-controlled input limiter Two AA battery power Solid machined aluminum housing Optional powering from external DC
Share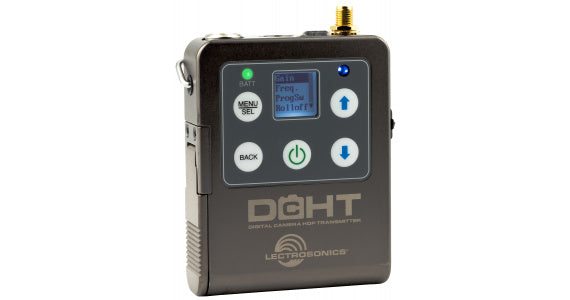 Free Shipping & Expediting

Ask about our direct ship options to expedite your order. All orders include free standard shipping to most destinations on the continental United States.