Lectrosonics xmitter digital plug on
Manufacturer: Lectrosonics
SKU: DPR-A
Regular price
$1,789.00 USD
Regular price
Sale price
$1,789.00 USD
Unit price
per
Sale
Sold out
Plug-on Transmitter
xmitter digital plug on
This unique plug-on transmitter design will ideally match any microphone or line level source via a standard XLR connector. The DPR can tune in 100 kHz or 25 kHz steps across the UHF television band from 470.100 to 607.950 MHz, with a selectable output power of 25 or 50 mW. The purely digital architecture utilizes AES 256-CTR encryption for high level security applications. The transmitter is specially designed with high efficiency digital circuitry for extended operating time on two AA batteries, with status indicated by a multi-color LED. An IR (infrared) port is included to simplify setup with IR enabled receivers. Updates can be made via SD card. The input amplifier uses an ultra low noise op-amp for quiet operation. It is gain controlled with a wide range, dual envelope limiter, providing over 30 dB of headroom above full modulation. A 24-bit A-D converter digitizes the audio, then filters out supersonic noise above 21 kHz.
Wideband UHF tuning range – 470-608 MHz (470-614 MHz for E01 version) Accepts microphone or line level signals Selectable 5, 15, 48 volt phantom power Selectable 25/50 mW RF output power Adjustable low frequency roll-off Powered by two AA batteries IR (infrared) port for fast setup Remote controlled "dweedle" tones (audio tone set-up control) Time code jam sync with Solid machined aluminum housing On board recording Encryption 256 Bit AES, CTR Mode
Share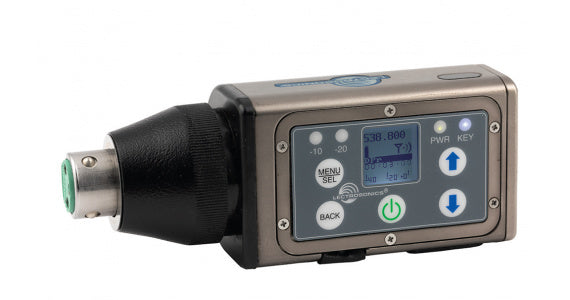 Free Shipping & Expediting

Ask about our direct ship options to expedite your order. All orders include free standard shipping to most destinations on the continental United States.