Prompter People 3 Proline PLUS 17 teleprompter kit
Manufacturer: Prompter People
SKU: KIT-ED-PROP173
Regular price
$5,999.00 USD
Regular price
Sale price
$5,999.00 USD
Unit price
per
Sale
Sold out
3 Proline PLUS 17 teleprompter kit includes 3 25 foot cables,3 FLIP-Q Pro licenses on USB plus 3 back...
PROLINE PLUS teleprompters come completely assembled and ready to use right out of the included padded carry case*. Just add your camera and connect to your tripod. When you are done prompting the beamsplitter folds flat for instant breakdown. Limited Time Soft Bag Included Free with 12" | 15" | 17" | 19" Regular 4:3 Models.
PARTIAL PRODUCT HIGHLIGHTS Complete solution – nothing else to buy Can be used tripod mount or Free Standing with adapter kit Models available readable up to 30 feet Self reversing monitor, HDMI, VGA and composite in High Bright models have 3G-SDI, HDMI, composite, and VGA inputs Trapezoidal glass available SDI input available on 12" | 15" | 17" | 19" and 24" High Bright (HB) models 65/35 or 70/30 glass Included software and scroll controller Upgrade-able to 15/17/19/24 inch Lowboy and Dual Height camera riser included Wireless Remote Included Flip-Q for PC or Flip-Q Pro for Mac included 25' HDMI Cable included PROLINE PLUS KITS (ALL PLUS KITS SHIPPING) Standard Medium Duty Freestanding Kit - (recommended 12" - 24") includes Medium Duty 8ft Teleprompter Stand and Specialized Rapid Adapter Optional Heavy Duty Freestanding Kit - (recommended for 19" - 24") includes Heavy Duty Junior Roller Stand and Specialized Plated Rapid Adapter 15mm Kit - includes 15mm Rail Block Standard Tripod Mounted Kit - includes Back-sled Monitor 12" / 15" / 17" / 19" / 24" diagonal Built-in reversing VGA, HDMI composite inputs for Regular 400 NIT 3G-SDI, VGA, HDMI, Locking Power, Side inputs for HighBright 1000 NIT LED backlit AC adapter included, battery operable When using PrompterPeople Auto-Reversing monitors, you will not need to use the Flip Function in the flip Q Software. When using a 3rd Party monitor you may need to use the Flip Function in the Flip Q Software Soft Case / Travel Kits Limited Time Soft Bag Included Free with 12" | 15" | 17" | 19" Regular 4:3 Models Studio (Trapezoidal) 17" - 19" and 24" Widescreen Teleprompters are available with Travel - Flight Cases (Hard Cases) Travel - Flight Cases (Hard Cases) are an upgrade * Fast, easy setup and ultra adjustable * Supports any size camera from palmcorder to ENG * Money back guarantee and 3 year warranty The PROLINE PLUS teleprompter's patent pending design utilizes custom aluminum extrusions for high strength, lightweight and tool-less setup and operation. The unique design offers perfect balance for any camera from a palmcorder to a full size ENG camera. The included monitor is self-reversing which eliminates the need for expensive external reversers or complicated reversing software. The monitor also offers a variety of inputs including VGA, composite and HDMI with High Bright monitors having 3G-SDI, VGA and HDMI. The lightweight LED displays are available in standard 400 NITS or 1000 NITS brightness. Go bigger or smaller! The PROLINE PLUS is modular and can be quickly and cost effectively converted to an iPad or 15/17/19/24 inch prompter for ultimate flexibility
Share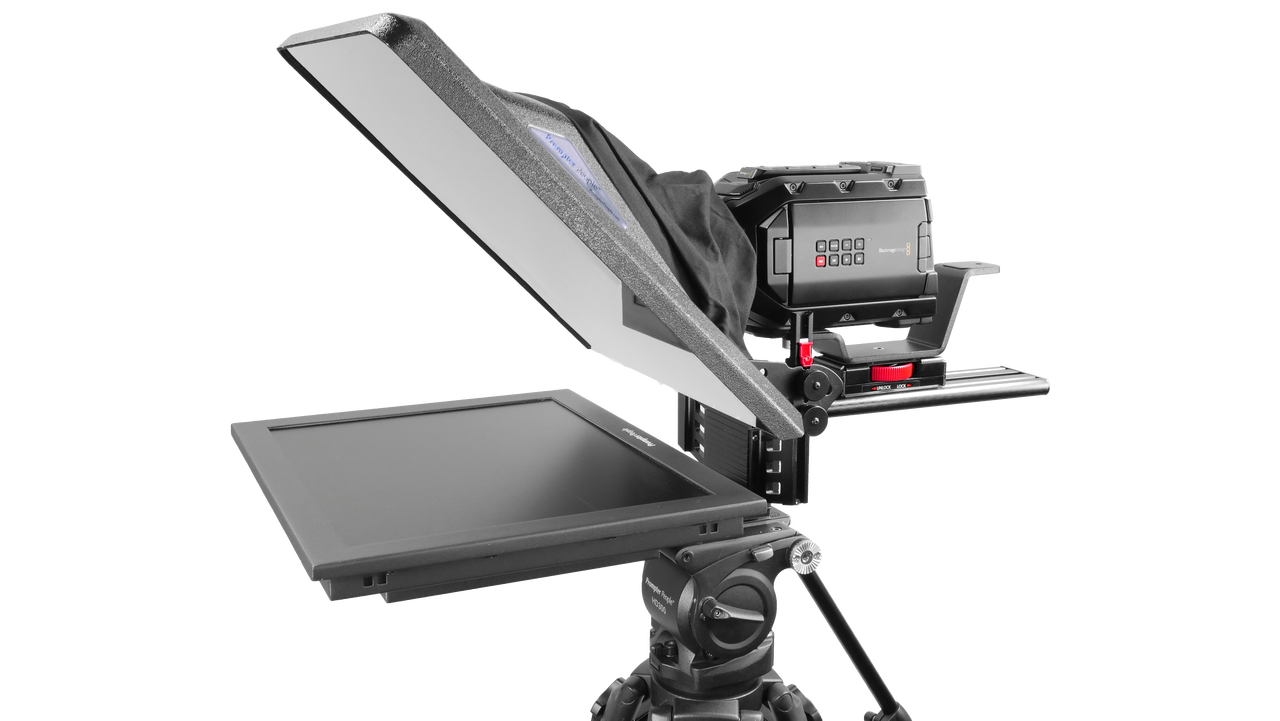 Free Shipping & Expediting

Ask about our direct ship options to expedite your order. All orders include free standard shipping to most destinations on the continental United States.