Prompter People Wide Screen teleprompter
Manufacturer: Prompter People
SKU: ROBO-HB
Regular price
$4,150.00 USD
Regular price
Sale price
$4,150.00 USD
Unit price
per
Sale
Sold out
Wide Screen teleprompter for PTZ cameras with 24" wide glass and 22" High Bright HD-SDI monitor
The Robo Prompter Robotic and PTZ Camera Teleprompter was designed for today's self contained robotic cameras such as the Panasonic AW-HE100, Panasonic AW-UE150, and Sony BRC series (Every PTZ currently on the market works with the Robo PTZ Teleprompter series). The Robo Prompter completely encloses the robotic camera for unhindered camera movement while providing easy access to camera controls. The 22" 16:9 LED LCD offers VGA, DVI, HDMI inputs with optional 3G-SDI. The Robo Prompter's wide mirror frame allows wide panning of the camera for both standard Teleprompter use as well as PowerPoint prompting applications and tele-presence using Skype or VOIP. Provides a perfect eye-line from presenter to remote viewer, perfect for remote studios, boardrooms and remote education.
Completely enclosed design Works with all robotic & PTZ cameras Works with Pan Tilt Heads and Cinema Cameras 2 PTZ cameras can be mounted side by side with adapter HUGE 24" glass allows for wide panning 24" 400 NIT Auto-Reversing 16:9 LED Backlit panel with HDMI, VGA, DVI, Composite Inputs/Outputs 21.5" RGB IPS Color Accurate 16:9 panel with HD-SDI (3G-SDI Available), HDMI, VGA, Composite inputs/Outputs 24" High Bright 1000 NIT Auto-Reversing 16:9 LED Backlit panel 3G-SDI, HDMI, VGA, Composite inputs/Outputs Viewable up to 35 degrees off axis Multiple people can read at the same time Perfect studio prompter perfect for tele-presence and tele-conferencing Robo Teleprompters do not come with an included travel soft case, please call for upgradable flight kits, and case options Upgradeable HB (High-bright) 1,000 NIT 3G-SDI monitor ROBO 24 LBS, ROBO HB 28 lbs Why Choose Prompter People Robo and Robo Jr Teleprompters for your PTZ needs US made optical quality glass All durable metal enclosure, no cloth, fabric, or canvas. 20-24 lb installed 3G-SDI, and HDMI inputs US designed, assembled and supported The leader in experience and installed systems
Share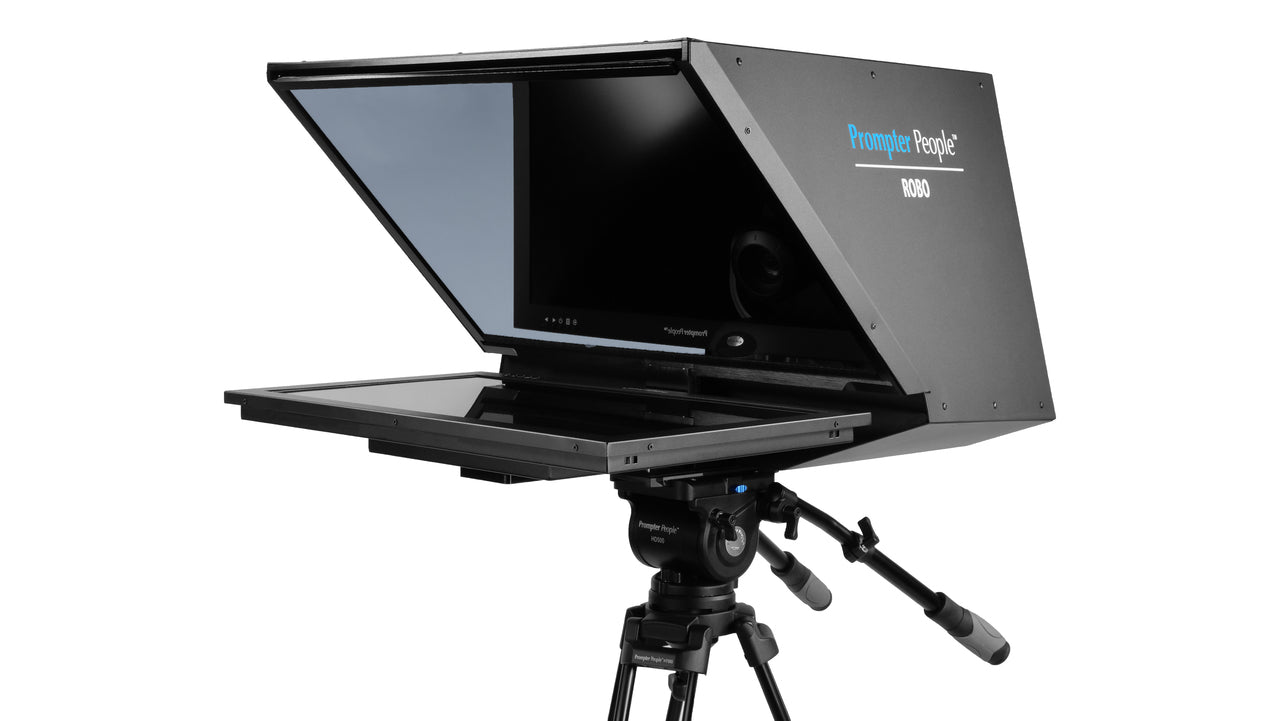 Free Shipping & Expediting

Ask about our direct ship options to expedite your order. All orders include free standard shipping to most destinations on the continental United States.